Plan with confidence using the forecasts that are trusted to set electoral boundaries, locate schools, and plan essential services.
Analyse detailed population and dwelling forecasts for catchments and custom areas that are relevant to your business with .id's micro-geography forecasts.

Whether that means a retail catchment, a school catchment or the footprint for a planned network upgrade, granular population forecasting helps businesses plan and invest with confidence. This small area forecast information (SAFi) can be sliced by age groups, gender and other characteristics to provide a population forecast for a demographic that matters to your business.

Flexible
We produce forecasts at a micro geography (SA1-derived) so they can be aggregated into a catchment that suits your needs such as retail trade areas or school catchments. Data is available by single year of age and single year time period (2021-2041).

Robust methodology
Our forecasts are produced by demographers, not algorithms.
The forecasts take into account the macro drivers of demographic change (fertility, mortality and migration) as well as a detailed understanding of the future land use strategy of Councils and status of the residential development pipeline.

Covid-adjusted
We forecast there will be 1.9m fewer Australians in 2041 compared to pre-Covid forecasts. The impacts are disproportionately felt both demographically and geographically. We have assessed our forecasts and adjusted them where necessary to take into account the impacts of Covid at the local level.
Use our tool to identify your catchment
To get started, search for an address or area of interest, use the radius tool to select a catchment, and refine your selection using clicks.
Complex geography or multiple trade areas?
Select age structure and preview report
Our micro-geography forecasts are age-specific, so you can refine the forecasts to focus on an age group that's relevant to you.
Name your report and submit the request
Once you've created a catchment and chosen your outputs, name your catchment report and submit a request.
Instant quote and confirmation of forecast availability
We'll give you an instant quote for the report you've requested, and instantly confirm if forecasts are available in the area you have selected.
Take a moment to check the catchment you have selected before submitting the request.
Pricing options
The standard report price is for a one-off purchase of a custom catchment report.
If you run these reports regularly, of if you need to report on multiple sectors or trade areas around a location, our multi-report tokens might be for you. Contact us here or more information.
We'll be in touch to confirm
Our team will contact you to confirm we've received your report request.
Your report will typically be prepared within two business days (contact us if you have a deadline - in most cases, same-day delivery is possible).
Questions?
Call us on 03 9417 2205 or email locationdecisions@id.com.au
Forecasts without compromise
Until now, population forecasts have been produced to fit administrative boundaries. Our micro-geography forecasts fit the real-world geography of school catchments, retail trade areas, ambulance callout locations and infrastructure networks.
You no longer need to cut up forecasts to fit your catchment
Our micro-geography forecasts allow you to build the exact catchment area you need. Gain population insights for thousands of small areas (SA1-derived geography) across Australia.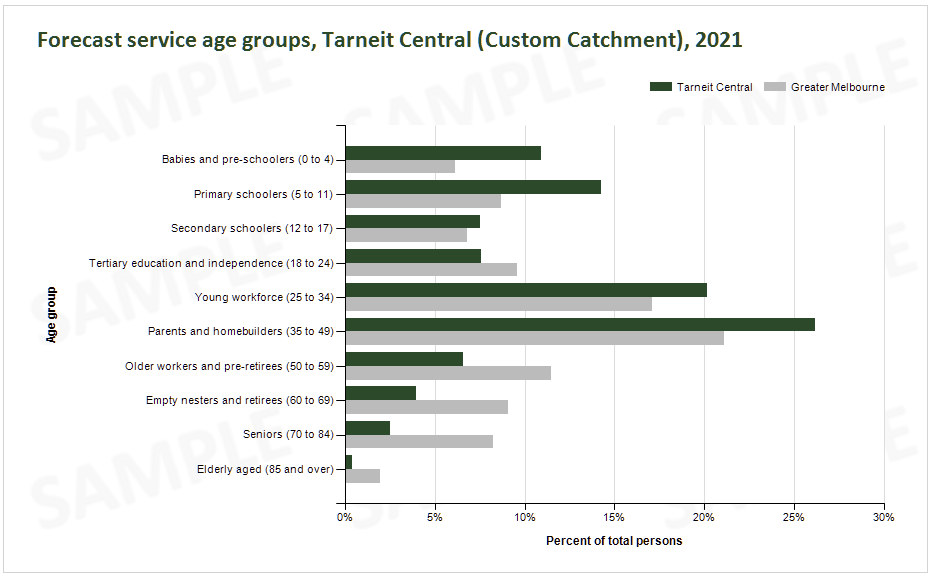 Plan for specific age groups
Our forecast data is available by single-year-of-age (0-85+) and can be aggregated to suit your needs, so whether you're planning for schools, first home buyers, empty nesters or retirement homes, we can help you plan with confidence.
Forecasts for every year to 2041
There is no need to perform a trend-line analysis to get the exact forecast year you need. Our forecasts are provided in yearly intervals (2021-2041).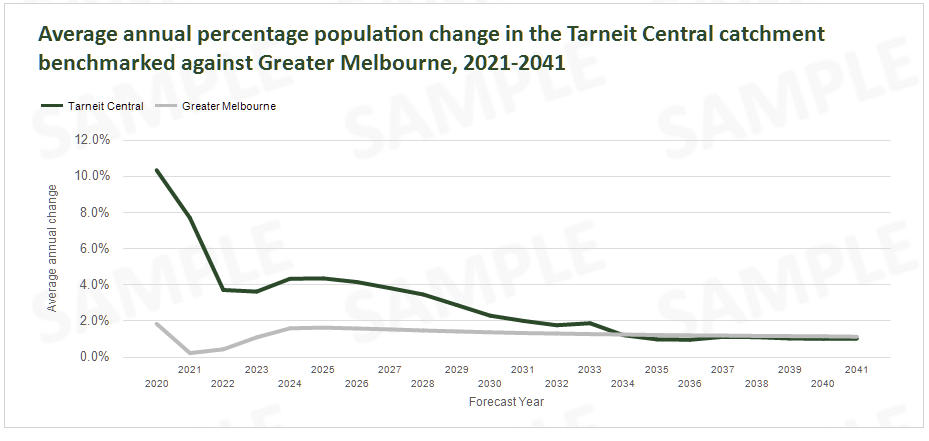 A detailed and independent view of future development
We consider the macro demographic drivers of population change and monitor residential development activity for all major development sites. These factors are combined to produce our micro-geography forecasts that are based on both supply and demand factors.
The industry standard in housing and population forecasts
Save time on in-house analysis by purchasing a report that gives you and your clients access to the industry-standard in population forecasts. Now available in a summary report and data file to help you make informed decisions.


Strictly independent
We offer an objective and rigourous assessment of the single most likely future scenario.

Local knowledge
We work closely with over 300 local councils across Australia, giving us unrivalled knowledge of local planning, development policy and other drivers of population change at the local level.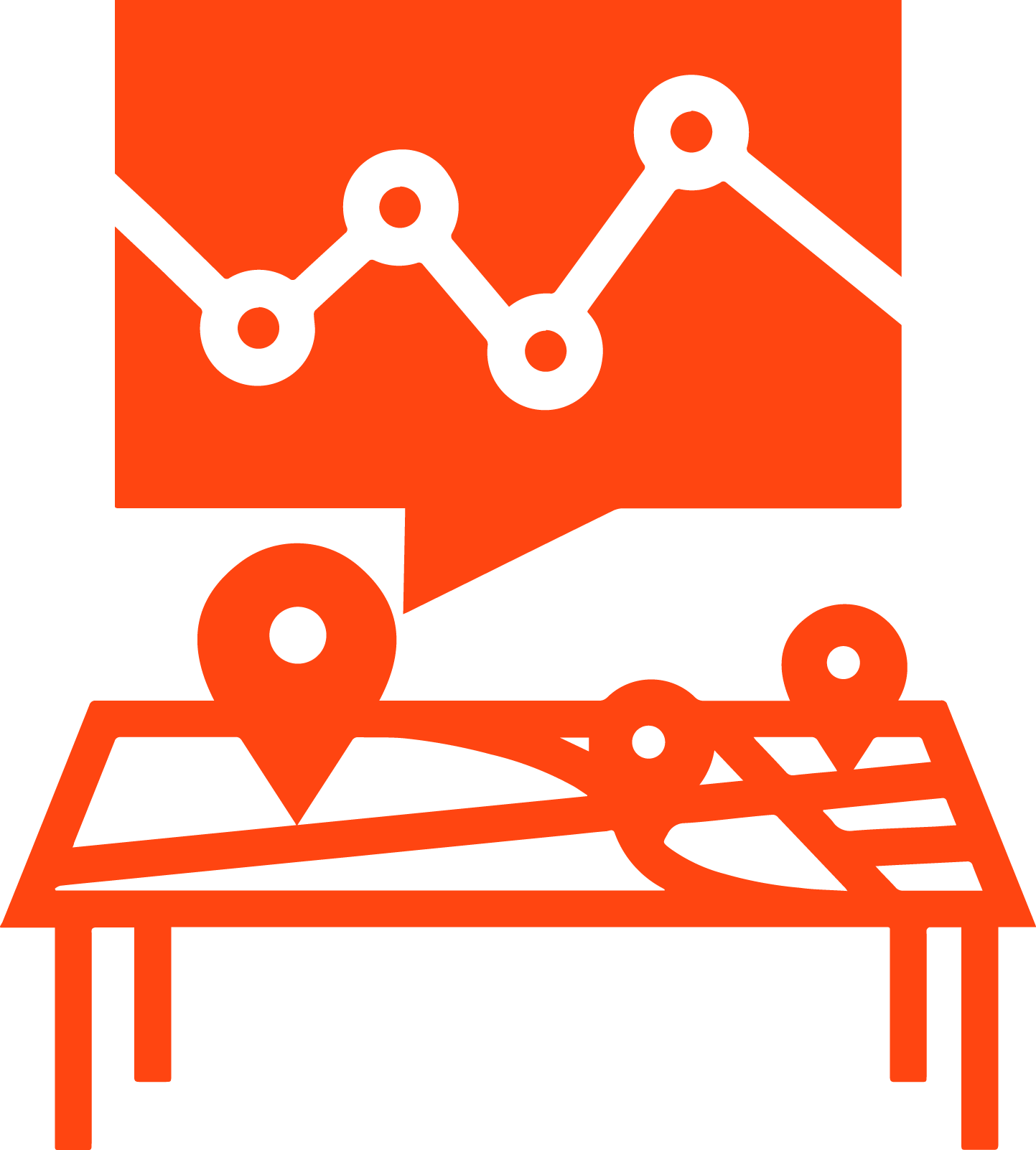 Set your own boundaries
Our flexible forecasts can fit the shape of your catchment, service area or another geography that's relevant to your project.
Need something different?
If you need access for multiple users or would like to discuss alternative options for accessing our forecast data, book a time to speak with us or send us a note using the form below.